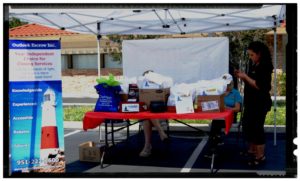 On May 12, 2016, Outlook Escrow Inc. sponsored a blood drive event benefiting City of Hope. Doug Shepherd, owner of Outlook Escrow Inc. has always been a proponent of donating blood. As an O- blood type, Doug has always known his blood can be transfused to any patient in need. He encouraged the event to be organized as he knows what a life saving event this blood drive can be. Hence, the Annual Outlook Escrow Inc. and City of Hope blood drive was conceived.
City of Hope willingly accepted the partnership and we tasked ourselves to promote the dire need for blood donations. Latascha Johnson, Community Outreach Director for City of Hope came to attend IVAR's Monthly Meeting Breakfast to educate a packed room of Real Estate Professionals about City of Hope's goals for the blood drive. An interesting fact that she mentioned was how the organization has never sold blood but rather, spends $750 million dollars to purchase blood for use to save their patients lives. This is a staggering amount that which should be allocated instead towards research to find cures for Cancer, diabetes, and other debilitating diseases.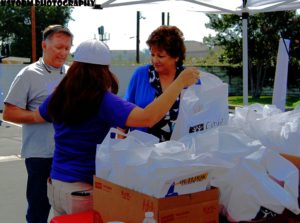 The Blood Drive Event that started at 9:30 and ended at 3:30 was well attended by IVAR's combined community of Real Estate Agents, Lenders, and Affiliates who came to support it because of one purpose-saving precious lives. The thought that each pint collected could possibly benefit up to 3 recipients, encouraged them to come in and ignore the fear of needles and the sight of blood. A successful event it was, it couldn't have been done without the support of people who donated time to give.
Michiyo Brewer, a local photographer came to offer free headshots for anyone donating their blood for the day. Sons of Liberty Aleworks, a local brewery incentivized their first pint of beer on a discount for every pint one donated. Real Estate affiliates donated little gifts for donors' goodie bags.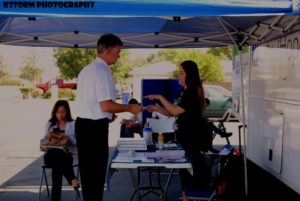 At the end of the day, we were able to collect 35 units of blood for City of Hope. A successful drive as we were told by Kathy Ramirez, City of Hope Blood Drive Coordinator. It wasn't the number of units that matter but the awareness that we have established amongst our peers in the industry. The ripple effect we set in motion was just as important. We thank you to all who attended the event. We hope to see everyone again next year, when the 2nd Annual Outlook Escrow Inc. and City of Hope Blood Drive Mobile rolls back to visit again in Riverside.